Melt pump spare parts, repairs and optimization
Melt pump spare parts
are available world-wide and even for other brands of gear pumps.
Repairs and optimization
also are our main service, as well as special pumps, metering systems, and other related products.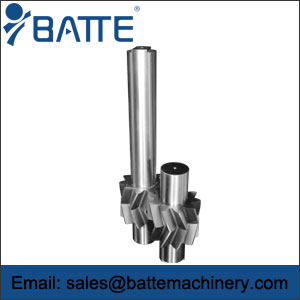 Melt pump spare parts, repairs and optimization:
Melt pump spare parts:
The range of melt pump spare parts sizes varies between 22/6 and 280/280 (and for larger pumps upon request).
Send your gear pump for refurbishment or repair.
We will provide an attractive offer for the repair, based on a precise itemization and analysis of the damage.
It goes without saying that the stringent quality criteria which apply to our pumps also apply to our spare parts.
Melt pump repairs and optimization:
You can profit from our comprehensive specialist knowledge in the field of
melt gear pumps
not only through repair work.
In addition to repair work, we can also help you to optimize your existing gear pump.
Our experts will gladly discuss the options open for optimizing your pump, starting with the Viscoseal technology, which has proven itself over two decades, up to small but extremely effective detailed solutions on the pump itself.
Simply give us a call and we will make you a non-binding offer. Either we personally or one of our countless local representatives, will be pleased to discuss your problems in person.
Special Pumps:
In addition to our standard pumps, we offer a wide range of special pumps, e.g. made of ceramic, tantalum, and titanium or immersion pumps. Many of these pumps are custom built to suit the application in question and its specific operating parameters. We for example produced one such pump, made completely of ceramic, for transporting a highly corrosive medium at a temperature of 550° C.
Metering Systems:
We enable precise volumetric metering of low to high viscosity media with gear pumps, even at high temperatures and pressures. Two series connected gear pumps, one measuring and one pressure boosting pump are precisely controlled by a PLC control system, such that a precision of better than 0.1% is achieved, depending upon the medium.
More details about melt pump spare parts, repairs, optimization, special pumps, and metering systems, please contact us freely.

Any questions about our products, please feel free to contact us! We promise you high-end products and first-class service.Look forward to our cooperation!!!