Extrusion gear pump
Extrusion gear pump
is melt pump used for extrusion lines. Compact and compatible are the outstanding properties. Technical features show the detailed information about these
melt pump for extrusion
.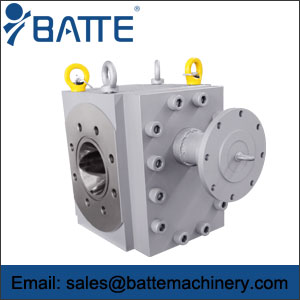 Extrusion gear pump compact and compatible:
Extrusion gear pumps are of compact design and impress through their extraordinary compatibility. Their light construction and compact design allow simple installation, thus saving time and valuable floor space. The extrusion gear pump can be operated with viscosities of up to 30.000 Pas. temperatures of 350°C, suction pressures of up to 120 bar and differential pressures of up to 250 bar.
The standard extrusion melt pump is delivered with aluminum-bronze viscoseals. This dynamic shaft seal is designed especially for high viscosities and suction pressures and can be provided with cooling if required.
Because of the efficient build-up of pressure in comparison to extruders, the product can be conveyed in a very gentle manner with the
gear pumps for sale
, as comparatively little energy or heat is transferred to the polymer. They allow an extremely precise and almost pulsation-free conveyance of polymer, so that fluctuations in conveyance by the extruder will be compensated for. The friction bearings are provided with special lubrication pockets and channels to ensure long-term, reliable operation.
Extrusion Gear Pump Technical Features:
Housing: Heat resistant carbon steel; optional: coating
Cover: Carbon steel
Gears: Nitrited tool steel, optional: coating, herringbone gearing
Friction Bearings: Tool steel, optional: coating
Shaft Seal: Viscoseal, Aluminium-Bronze, optional: cooling element
Heating Systems: Electrically, by means of heating cartridges
Extrusion gear pump application:
Polymers: PS, PET, PC, PA, PMMA, HDPE, LDPE, LLDPE, PP, Polysulfone, PEEK, etc.
Extrusion gear pump size / capacity / displacement volume:
Pump Sizes: From 22/22 (4.7 cm3/rev) up to 180/180 (3.200 cm3/rev)
Extrusion gear pump operating parameters:
Viscosity: Up to 30.000 Pas
Temperature: Up to 350 °C (662 °F)
Suction Pressure: Up to max. 120 bar (1.740 psig)
Differential Pressure: Up to max. 250 bar (3.626 psig)
Heating cartridges 4xP [W]
Temperature sensor PT100
2x Spiral wound gasket
2x cooling element optional
Temperature sensor PT100
The values listed are maximum values and must not coincide under certain circumstances. We will be pleased to offer you extrusion gear pump with special materials and differing designs upon request.

Any questions about our products, please feel free to contact us! We promise you high-end products and first-class service.Look forward to our cooperation!!!