ZB-C Series Reinforced Melt Pump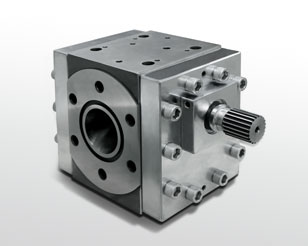 Products Details
Batte melt pump is mainly used for metering, transfer and pressure booster pump of low or high viscosity polymer melt. The pump parts can be selected to counteract abrasion and conform to various materials characteristics of the pumped media.
ZB-C series reinforced melt pump is mainly used for stabilizing, pressurization and transportation of medium or high viscosity medium from the polymer flow layer. This series of melt pump adopts electrical heating, and applies to PS, PP, PET, PVC, PC, PMMA, PA , etc.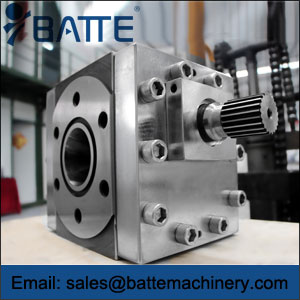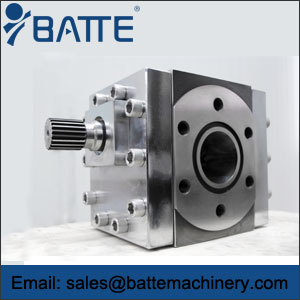 Working Principles of ZB-C Series Reinforced Melt Pump:
This type of extrusion melt pump is mainly used in conjunction with extruders or kneaders.
It reduces the natural pulsation and irregular conveyance, particularly in single-screw extruders, added to which, the build up of pressure in the gear pump is more efficient in comparison to the extruder. Because of this, less energy or heat is transferred into the polymer and the product is conveyed in a gentler manner. This type of melt pump for extrusion is indispensable for the manufacture of precision films or micro granulate.
Specifications
Technical Parameter for ZB-C Series Reinforced Melt Pump:

Technical Parameter

Operating Parameter

Material for Melt Pump Body: High Temperature Tool Steel or Stainless Steel
Material for Gear: M2 Steel (Optional)
Material for Sliding Bearing: High Temperature Tool Steel or Stainless Steel
Shaft Sealing: Double Spiral Sealing
Heating System: Electrical Heating
Model/Volume Range: 0.5CC - 2500CC, 0.5cm3/rev - 2500cm3/rev

Viscosity: ≤40000 Pas
Working Temperature: ≤400℃
Cleaning Temperature: ≤450℃
Inlet Pressure: ≤12MPa
Differential Pressure: ≤25Mpa
Packaging&Delivery
Packaging Details: Items are usually wrapped with foam plastics, and then packed in wooden case.
Delivery Detail: 5-6 weeks after receiving 30% prepayment from the buyer

Any questions about our products, please feel free to contact us! We promise you high-end products and first-class service.Look forward to our cooperation!!!