Gear pumps for elastomer extrusion
The
gear pump for the elastomer extrusion
is a hot melt pump. To relieve pressure from the rubber extruder (warm or cold feed) and for a gentle, efficient and continuous building up of pressure.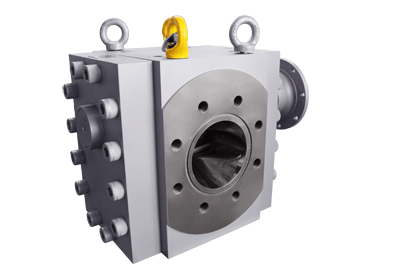 Gear pumps for elastomer extrusion Technical details:
Melt Pump Materials:
Housing: Alloyed steel
Gear shafts: Tool steel
Slide bearing: Tool steel
Shaft seal: Grooved viscoseal
Heating: Liquid heating with water or oil
A fully integrated solution from just one supplier. Ready-to-use systems, optimally adjusted for a continuous and efficient use of the machines. With our 1-4 times pump systems for the elastomer profile extrusion we reach this aim!
In the connection with our gear pump control unit S7-300 (Siemens) highest process security is guaranteed.
The control unit for gear pumps:
The gear pumps, the extruder and the other peripheral units, they all are connected optimally with the help of the control unit. Gear pumps for elastomer extrusion are the main part.
With this control unit for gear pumps (used primarily in the retrofit manufacturing) all parameters like pressures, temperatures, shaft speeds and power consumption are watched and logged.
The control unit is an important link in your process chain, especially for quality.

Any questions about our products, please feel free to contact us! We promise you high-end products and first-class service.Look forward to our cooperation!!!