Optimum application field of melt gear pump
As a manufacturing enterprise of large melt gear pump in China, batte has many years of experience in equipment development and production. It provides the best melt pump equipment for many plastics extrusion users in China, improves the efficiency of plastic extrusion line and creates more productive benefits for the plastic extrusion users. Below Lantai analyzes and explains the best application scope of melt gear pump.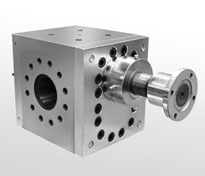 It is suitable for the extruder with poor pressure building, such as the co rotating twin screw extruder, multistage exhaust extruder, and so on. The application of the melt gear pump also requires that the stability of the extrusion quantity is better than 1%, that is, the precision extrusion, such as wire drawing, cable extrusion, medical hose, compound coextrusion and so on. The application of the melt gear pump can also cause damage to the equipment: for example, when the polymer contains a large amount of abrasiveness, it will cause damage to the melt gear pump; the melt gear pump is very sensitive to wear because of the small gap in the design of the melt gear (Mechanical).

Any questions about our products, please feel free to contact us! We promise you high-end products and first-class service.Look forward to our cooperation!!!