Products Details
Standard Melt Pump ZB-B is the most commonly used polymer melt pump . Melt pump is mainly used in high temperature and high viscosity of the polymer melt conveying, pressurization , and Measurement. ZB-Bseries melt pump displacement from 20cc / turn -630cc / turn , hourly output from 5Kg-5000Kg, φ35-φ250 to meet other single screw , conical twin , parallel twin extruders requirements.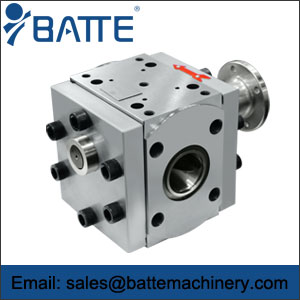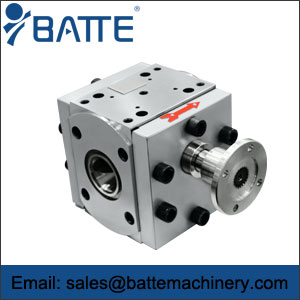 The main advantage of using a melt pump are:
1 . The extrusion products to minimize dimensional tolerances , material per unit weight of the system out more products. In extrusion products require strict dimensional tolerances or products more expensive raw material costs , the use of a melt pump more necessary , more valuable.
2 The co-rotating twin -screw extruder and melt pump synthetic compounding extrusion granulation production line, its mixing quality and yield significantly higher than single twin-screw granulation unit . Energy consumption per kilogram of processed material can generally be reduced by about 25 percent.
3 In the original single -screw or twin-screw extruder granulator melt pump and the installation of tubes, plates, film extrusion head , the granulation step can be omitted direct extrusion products . This system is ideally suited for extrusion products need to go through the material blend modified occasion. In addition the system has the advantage of the first two , but also by simplifying the production process of extrusion products , shorten the production cycle to achieve energy savings.
4 can be achieved using more than one medium and small extruder simultaneously to a melt pump feeding , after melt by melt extrusion head pump pressurized metered large products ( large diameter pipes , wide plates, film, etc. ) . Compact structure of such a line configuration , small footprint ; sectional dimensions of the extruded product is more accurate and easier to control.
5 configuration in a single -screw vented extruder melt pump , can freely operate the system , and excellent performance. In high head pressure and high yield, the amount can be adjusted while the extrusion must not take the material situation.
Specifications
  Pump: High temperature tool steel
  Gear: high temperature tool steels, nitriding steels
  Plain bearings: high temperature tool steel
  Bearings: Spiral seals, packing seals
  Heating system: Electric heating
  Specifications / Flow Range: 0.5CC - 2500CC, 0.5cm3/rev - 2500cm3/rev
  Viscosity: ≤ 40000 Pas
  Temperature: ≤ 400 ℃
  Cleaning temperature: ≤ 450 ℃
  Inlet pressure: ≤ 12MPa
  Maximum pressure: ≤ 25MPa
Packaging&Delivery
| | |
| --- | --- |
| Packaging Details: | Items are usually wrapped with foam plastics, and then packed in wooden case. |
| Delivery Detail: | 5-6 weeks after receiving 30% prepayment from the buyer |