Co-extrusion Die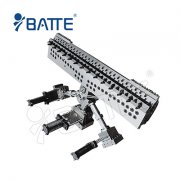 Products Details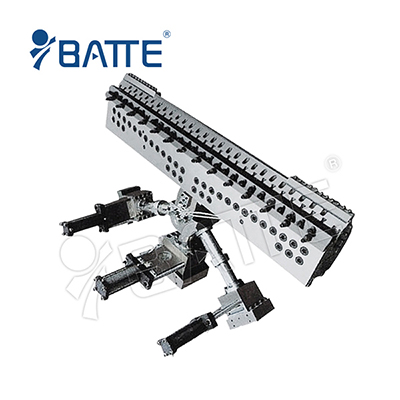 Custom-engineered Co-extrusion Die, backed by years of experience in the field of die design and manufacturing, provide you with equipment that refines your final product while creating efficiencies in your production process. Each of our extrusion die systems is custom-designed to meet your needs and process parameters. Below you'll find cast film dies, extrusion coating and laminating dies, and sheet dies with removable lips and deckling to adapt to changes in production needs. Nordson also offers ancillary equipment for added safety and reduced downtime for maintenance, and enhanced product quality through customized manifolds. Browse coextrusion dies to produce side-by-side structures or multi-layer structures, T dies, film dies and other plastic extrusion dies that give you enhanced control over dimensions, reduce waste and offer versatile designs to meet any configuration you need. Then, contact us about manufacturing a custom die for your production line.
Product description On three layers co-extrusion plate mold, die body 90 degrees adjustable choke rod die lip thickness, add a special distributor, with hangers type port.
Specifications
Co-extrusion Die Applications:shoes,bage,Oxford cloth ,tarpaulins
| | |
| --- | --- |
| Item | Specification |
| Die steel | P20/5CrNiMo |
| Material | PE/HDPE/LDPE/PA/PS/LDPP/HDPP/ABS/EVA/PC/PMMA |
| Width of the die | 500mm-5000mm adjustable |
| Thickness of the product | 5-20mm |
| Choked flow rope | 90° |
| Way of flow passage | clothes rack type |
| Voltage | 220V/50hz |
| Heating type | heating inside |
| Heater element | stainless steel heating rod |
| Mode of connection | closed cycled connection |
| Fastening piece | 12.9 high strength |
| Precision of polishing | Polishing precision of the stream surface of the die lip 0.03-0.04(μm)other parts is 0.04-0.05(μm) |
| Galvanization | the stream surface of the die head are treated by chrome treatment. Thickness 0.03-0.04(μm),hardness: 60-65Rockwellc,the chrome treatment thickness of the ektexine is 0.01-0.02mm. |
| Installation | according costumer's request |
| Way of charging | central ring charging way |
Packaging&Delivery

Any questions about our products, please feel free to contact us! We promise you high-end products and first-class service.Look forward to our cooperation!!!